Beverly Guitar Watkins était une fabuleuse guitariste par son style et l'énergie qu'elle déployait dans son jeu, ce qui lui permettait d'en remontrer à bien des Jimmy Hendrix ou des Stevie Ray Vaughan en herbe.
Beverly Watkins est née le 6 avril 1939 à Atlanta, capitale de la Georgie. Alors qu'elle n'a que 3 mois, sa maman meurt et elle est élevée par ses grands-parents maternels qui sont métayers, dans le village de Commerce situé à 70 km au nord d'Atlanta.
Elle baigne dans une ambiance musicale, car son grand-père joue du banjo et de l'harmonica, et ses tantes forment un quatuor de Gospel. À neuf ans, une de ses tantes lui offre pour Noël une petite guitare. La mort de son grand-père la laisse aux soins de ses tantes à Altlanta, où elle retourne pour finir ses études. Elle joue de la guitare et de la trompette au lycée. Après ses études, elle commence par jouer de la guitare rythmique dans le groupe Billy West Stone and the Downbeat Combo, puis avec Piano Red avec qui elle fera les 1eres partie de James Brown, Aretha Franklin et Ray Charles… Très bonne guitariste, elle restera dans l'ombre pendant des décennies, complètement ignorée, malgré une tentative de carrière solo au début des années 80 qui ne donne pas grand-chose. Pour survenir à ses besoins, elle est même obligée de reprendre des petits boulots jusqu'à ce qu'elle rencontre en 1995 la Music Maker Relief Foundation. Sa carrière est alors relancée par Tim Duffy qui lui permet de participer aux multiples spectacles de la fondation aux USA, en Europe et partout ailleurs. Elle enregistre, à 60 ans, son tout premier CD avec la Music Maker, Back In Business, disque qui sera nominé aux Blues Music Awards en 2000. Elle est contrainte de lever le pied en 2005 pour raison médicale. Elle continuera néanmoins à se produire dans les clubs d'Atlanta, et dans quelques festivals comme celui de Cognac en 2008, et sortira 3 autres disques, The Feelings of Beverly 'Guitar' Watkins" (2005 Music Maker), Don't Mess With Miss Watkins (Dixifrog 2007) et "The Spiritual Expression of Beverly 'Guitar' Watkins" (2009). Sujette à une attaque cardiaque en juillet dernier, Beverly Guitar watkins est decedée le 1er octobre 2019. Elle avait 80 ans.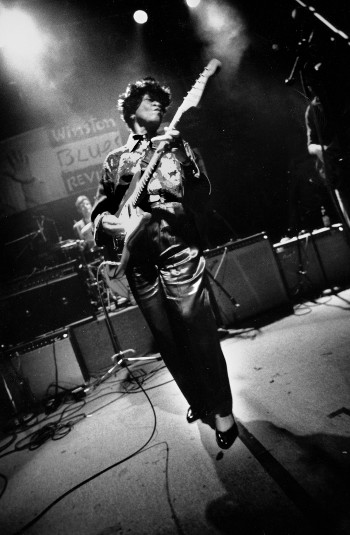 Beverly Guitar Watkins sur scène en 1999©DR