News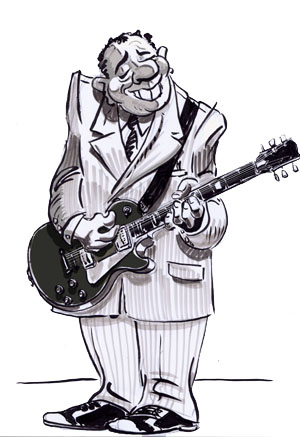 Cette page rassemble les informations sur le Blues recueillies sur Internet ou transmises à BLUES Magazine. Elles sont affichées par ordre chronologiques de parution. Les archives rassemblent les principales informations recueillies.
Les dates de manifestation font l'objet d'une page spécifique accessible en utilisant le lien du menu situé dans la colonne droite. 

David Gilmour, l'ancien guitariste des Pink Floyd, a vendu sa collection de guitare aux enchères. La vente réalisée en juin 2019 par Christi'es à New York a rapporté 21,5 millions de dollars grâce aux 120 guitares qui ont changé de mains. La Stratocaster noire surnommée Black Start, a atteint la somme de 3 975 000 dollars, un nouveau record pour une guitare…
Le produit de la vente a été intégralement reversé à Client Earth, une organisation à but non lucratif luttant contre le changement climatique.

La cérémonie annuelle de la Blues Foundation s'est tenue à Memphis le 9 mai dernier. Cette année, la remise des prix a été empreinte de mélancolie puisque le grand gagnant a été un jeune chanteur de Blues de 33 ans, Michael Ledbetter (parent éloigné de la légende du début du XXe siècle Lead Belly), donc la carrière s'est brusquement arrêtée après son décès en janvier dernier. Le chanteur et guitariste, formé à l'opéra, était présent dans l'esprit des autres compétiteurs et la Blues Foundation lui a décerné le prix convoité du BB King Entertainer de l'année.

Une campagne locale en cours à Atlanta pour préserver un vieux bâtiment remet à l'honneur une histoire oubliée.Le bâtiment en brique de deux étages situé au 152 Nassau Street a accueilli en 1923 un studio d'enregistrement temporaire dans lequel Ralph Peer, un chasseur de talent venu de New York pour enregistrer des musiciens des états du Sud des USA, a œuvré.
Il a enregistré en particulier un artiste très connu dans la région, John Carson, qui enregistra The Little Old Log Cabin In The Lane, un vieux traditionnel populaire de minstrel show écrit en 1871.

La collection de disques de 78 Tours de la bibliothèque publique de Boston (USA) est disponible en ligne et gratuitement.